The Senate Employment Office hosts monthly webinars to provide guidance to Senate job seekers. Each one-hour session begins with a presentation followed by a live Q&A forum. Listed below are our current webinar formats. All sessions are held virtually on WebEx. Please visit our events calendar to register for an upcoming session.
Requests for accommodation: please view the upcoming event's details for guidance.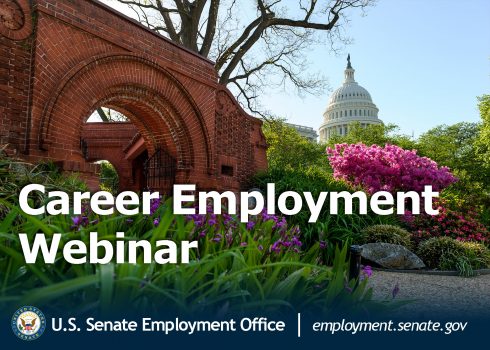 Career Employment at the Senate
This session is open to everyone, but was specifically designed for individuals seeking career opportunities in Senate Member or Committee offices. General guidance will be provided on how to prepare for your job search, find and apply to Senate staff positions, and access other resources for Senate job seekers.
Offered: March, June, November
Early Career Opportunities at the Senate
This session is open to students (undergraduate, graduate, law) and recent graduates. Participants will learn about internship (intern, fellow, clerk) and early career (0-2 years post-graduate) opportunities with Senate Member and Committee offices and receive guidance on how to prepare, find, and apply to Senate jobs and internships.
Offered: February, May, September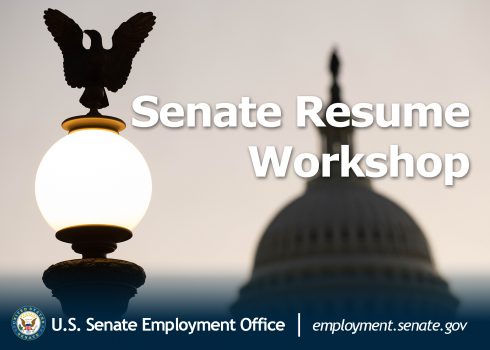 This workshop is open to everyone. During the session, we will cover the Senate Resume Bank process and provide general guidance on formatting resumes, tailoring cover letters, selecting writing samples and references, and other best practices when applying to Senate Member and Committee offices. Individuals' resumes will not be reviewed.
Offered: January, April, July, October
We look forward to connecting with you at an upcoming event! In the meantime, please view our online resources, including our Applicant Toolkit, for guidance on writing resumes and cover letters, networking, and interview preparation.